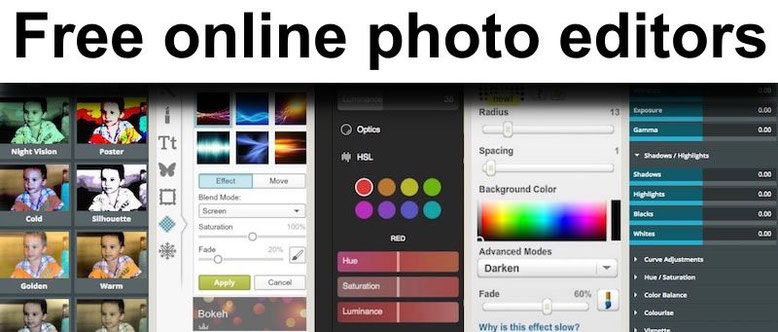 ---
You are searching for free editing online software web based which look like Photoshop or Lightroom ? Welcome you just arrive on the good page.
There is plenty of website which propose those online editing software, most of them look like Photoshop or Lightroom with the big advantage to work on your photograph online, meaning in your browser, for free.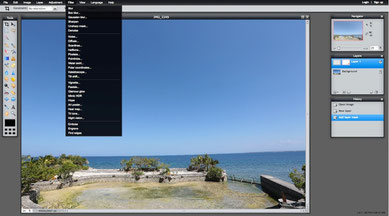 Why do you want to edit online instead to download a software and edit your pictures on your desktop computer ?
First if you are a bit paranoiac and do not want to install an App on your computer, here you have nothing to install it's all web based.
Another good factor to work with online Photoshop Lightroom alternative, is when your computer is far from you or you do not have immediately access to it, and you need to quickly edit some photographs to send it (for example to Facebook), those web based photography editing software are very useful!
Anyway, for whatever reasons, you might need to have access at these free web based photographic Apps one day or another day, in all cases it's good to have it in your bookmark.
So here is a list of Free alternative web based (online) Photoshop Lightroom like.
First the most complete online free Photoshop alternative with a lot of useful tools.
Now some more simplistic editing online software, often more oriented for beginners and advanced photographers who do not want to spend a lot of time to edit or learn how it work, but just want to apply some filters, put a frame and border or add some "funny" things on their pictures with some quick photo edit.

The one i don't like.
G

oogle+ : First at all you need to install Chrome, personally when some website want that i install something to change my habit, i am getting angry! i don't like Chrome, it's my taste, i tried it and i don't like it. Plus i know also for a fact (i was a developer) they did it on purpose, because Chrome and FireFox are still quite similar and they can develop this kind of software to be "compatible" for every browsers, even the proprietary Infernal Explorer.

Free online drawing, painting and design Software : Yes i want to add 2 or 3 painting and drawing software for some designer and graphic artists which stop by here.

There is a down side of those free online image editing Apps, most of them, if not all of them, are unable to convert your RAW files to JPG, some can convert TIFF or may be a DNG to JPG, but not your CR2 or NEF.
What does it mean ? That you need to shoot JPEG, so you need to change it in your camera's setting.

Having said that you should also know that it seems the life of those free editing online website are quite short for some of them ! So i cannot decently recommend to save your images on these website, better to save it on a flash memory card USB type or somewhere you'll be sure to retrieve them, even if most of them have a link to save directly on  your Flickr, Facebook or Google+.

Just to give you some examples, following 5 well-known web based photographic editing software which do not exist any more like DrPic, Pixer, Aviary, Slashup, Picfull and the list can be a lot longer, which also have hosted some pictures from their members, some of the latter might not have been able to retrieve in time their pictures before the servers of these photos online editing software has been closed.
---
You may also like these related articles.
---
If you like this page let me know it in a comment below (read the rules) and don't forget to share it now on your favorite social media.
Thank you for your support.
---