After testing and reviewing more than 200 free photo editors (more than 150 online and more than 100 to download on the computer PC or Mac), many of them literally stand out by what they offer.
Because we are now in 2016, i decided to tell you which one is the best of the best photo editors of the year 2015. So with all the tests i did on each one, and because you might not agree with me (specially the devotees of a specific application), below the 10 main points to explain on what i have based my decision to nominate the winners.
Quality of the resulting photo processing and options offered to save the final image.
Free photo editing tools at our disposal, yes i put "free", because sometime to get some specific options there is a premium membership (a paid part), so the basics and other important editing tools should be included in the free part or at least enough tools to do a basic but proper edit.
Quantity of free photo editing tools or image manipulation features, which overall define what we can do and cannot.
Ability to watermark the pictures (with text, logo, whatever).
Design of the user interface: it should be easy to understand by everyone even beginners and not cumbersome even if it's featured with a lot of tools.
For beginners an one click option for photo editing and/or one click photo effect. Beginners do not want to spend time to edit or apply some effects.
Indeep image processing abilities for advanced photography editing, with the ability to do local adjustment and/or local effect (often those are brushes).
Operating System independent, or at least the photo editor should work on two of those main OS: Windows, Mac OS X and any Linux distribution.
Fast and smooth, as fast as possible, because if it take few seconds each time you are applying an effect or use a tool, it become a nightmare to edit a photo.
No glitches or bugs, the photo editor should be trustable, if you spend time to edit a picture and the software just froze or close itself without warning and you loose all your work... You just loose your time and that's not admissible.
When i started this blog about the best photo editing software of the year 2015, i thought that the possibility to open a RAW photo was important, because with a RAW photo you can get back at least 3 stops on each side of the histogram, for example the highlight and the shadows.
But seriously as a photographer who make those huge mistakes ? and if so, the photograph is a non keeper!
- And do not tell me "but if it's THE shot" ...
Of what? of THE century? THE millennium?
- Rescale your own opinion about yourself, because if you do THE shot of THE century everyone on this planet will knew it!
Only nerds think that a way underexposed shot can be the shot of the century because they have spend 2 hours in post processing trying to get back the picture clean and at a proper exposure, so they want to justify the 2 hours of lost of time.
So, i told myself, one stop mistake on one side of the histogram is a lot more than enough for our everyday pictures and i will include those photo editors which do JPEG but do not handle RAW.
And here i was surprised to see a lot of those free photo editors which do not handle RAW photos, overtaking in many ways those which support RAWs, and surprisingly often they are not an application that we install on the computer, but they are free web based photo editors software, and for few of them they do both (online photo edit and offer also a free photo desktop program), and because of that, i decided to do two nominations.
It was relatively easy to nominate the winner for the desktop application, even if the winner from the beginning was a big step ahead, i should say that the 4 finalists were quite closed:
But ...
The best of the best 2015 free photo editing program to download and install on the computer, after all those free editors i have tested is :
To determine which free Online photo editor was the 2015 best of the best, i needed to be a bit more comprehensive and enlarge my point of view.
For example i am truly opposed of the need to upload a picture on the website server, it's a lost of time and when you get a bad internet connection it become a nightmare to process your pictures.
So on this side i pass a bit, i let it go because if you do not have a slow internet, some website have some amazing tools (which can be done also without upload in HTML5 too).
Another factor where it was a lot more hard to determine which one is the best, is that they have a quite similar look and features, for example the finalists were:
At the end Befunky, iPiccy and Pixlr were in the top 3.
I thought i will put Pixlr as a winner, mainly because of its Photoshop alike Pixlr Editor, but after spending times with iPiccy and Befunky, i was not sure anymore which one can win this contest, because iPiccy and Befunky have a very well developed basic and very advanced photo editing tools which are a lot easier to use than a Photoshop alike user interface.
I found Pixlr to have less features with collage and basic editing on Pixlr Express (but tons and tons of high quality filters and effects and no upload needed).
At the end, I found Befunky to be the best with the makeup, a lot of options and functions integrated in almost each tool and the "no upload needed" was a huge time winner.
I even went back to play again with Ribbet which is truly very well tooled, so yes it was quite hard to decide, but at the end i should choose only one, and ...
The best of the best 2015 free Online photo editing Web-based application, after all those free editors i have tested is :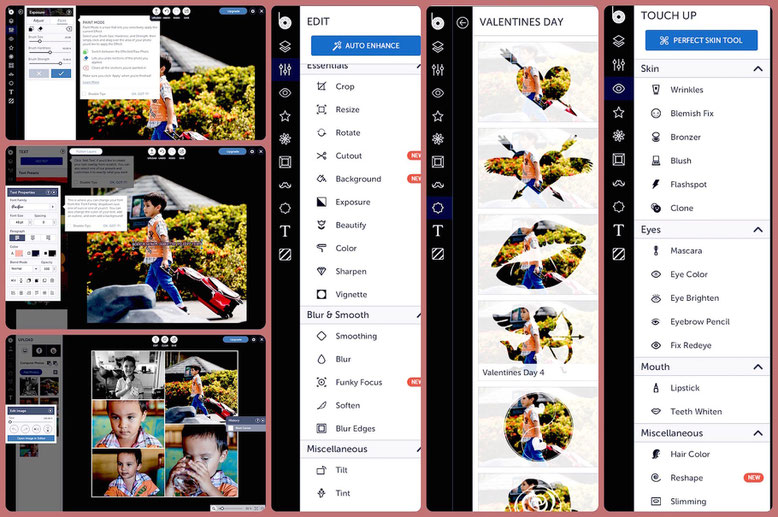 ---
If you like this page let me know it in a comment below (read the rules) and don't forget to share it now on your favorite social media.
Thank you for your support.